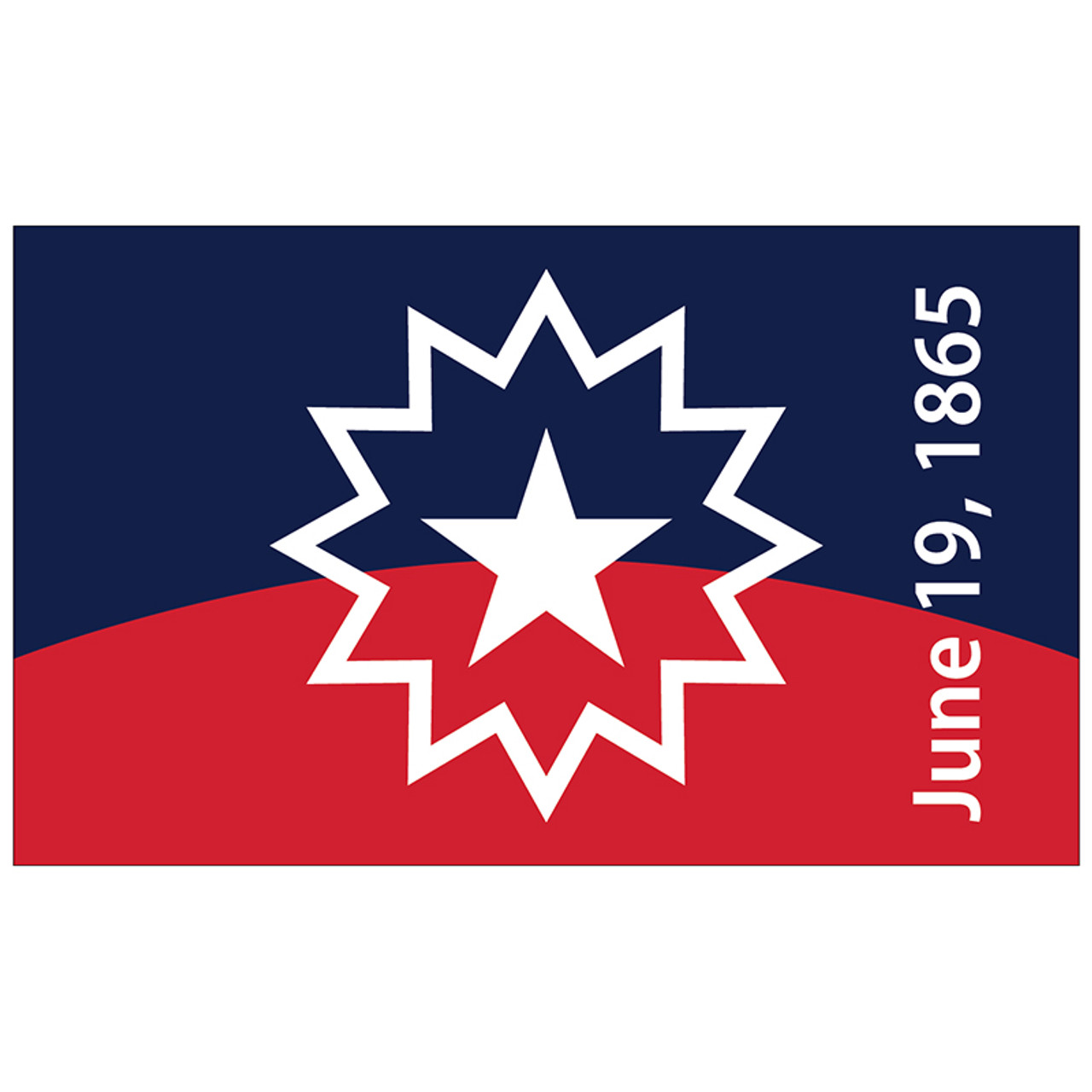 Let's Talk About Juneteenth
Cultural Significance
Juneteenth is a federal holiday that holds a significant place in American history. The historical significance of this day lies in its commemoration as the true end of slavery in the United States. As a cultural symbol, Juneteenth stands as a testament to the resilience and perseverance of African Americans throughout the history of slavery and their continued fight for freedom. The delayed news of emancipation highlighted the challenges faced by African Americans and their enduring struggle for equality.
The cultural significance of Juneteenth extends beyond its historical roots. It serves as a day of celebration, reflection, and education. Celebrations often include community gatherings, parades, music, food, and artistic expressions. African Americans honor their heritage, promote unity, and educate others about the history and legacy of slavery. Additionally, Juneteenth serves as a platform for candid discussions on racial equality and social justice in the United States.
History
Galveston, Texas
The origins and historical context of Juneteenth traces back to June 19, 1865 when General Gordon Granger of the Union Army arrived in Galveston, Texas.
Upon his arrival, General Granger delivered General Order No. 3, which proclaimed "that all slaves are free." This announcement was met with jubilation and profound emotion by the African American community in Galveston, as they finally learned of their emancipation. The news spread rapidly, igniting a wave of celebration among enslaved people in Galveston.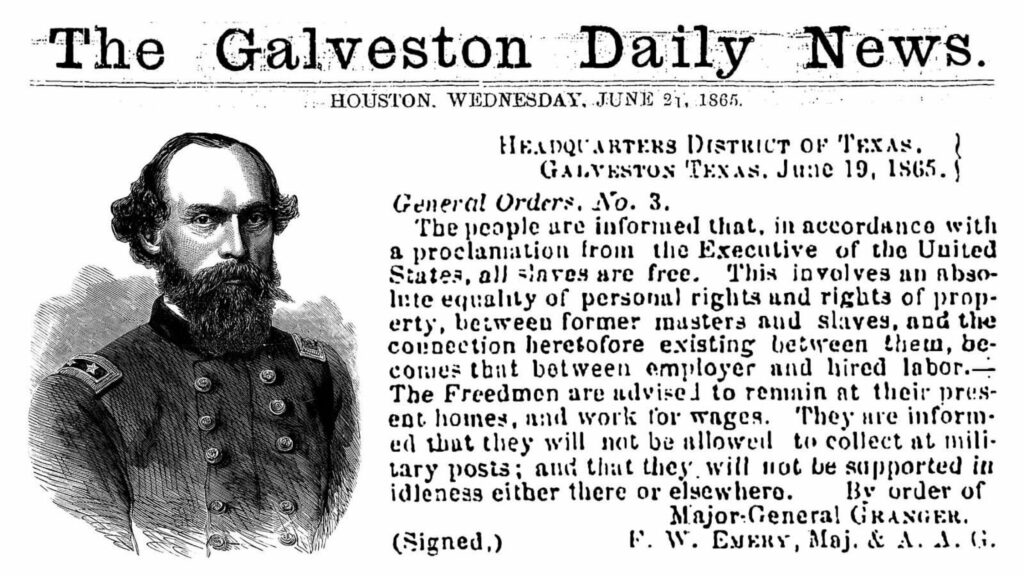 Sadly, this crucial news of freedom came two and a half years after the Union issued the Emancipation Proclamation. General Granger's arrival in Galveston marked a pivotal moment, as Texas was the last Confederate state to receive the news of emancipation. This delayed message led to Juneteenth becoming a symbolic day of liberation and celebration.
Spreading the Holiday
The first celebration of Juneteenth traces back to 1866 in the rural South. However during an event known as the Great Migration when many African Americans left southern states and headed north in search of better economic and quality of life opportunities. Throughout the 1920s and 30s, these events became characterized by gatherings of food and celebration of art and expression.
Juneteenth in the Modern Era
The 1940s through the 60s were tumultuous to say the least for the holiday. The wider movement for Juneteenth became overshadowed by events such as World War II and the Civil Rights movement. It finally regained its traction in the 70s but only recently gained mainstream momentum the past few years. In fact, Juneteenth only recently gained federal recognition in 2021. It stands as the first federal holiday announced since Martin Luther King Jr. day in 1983.
Juneteenth Inc.
Juneteenth and Companies
The holiday gained wider recognition and visibility in the corporate world following the racial justice movements of 2020. Events such as the killing of George Floyd and subsequent protests, prompted many companies to reevaluate their diversity and inclusion efforts. Organizations recognized the importance of acknowledging and honoring Juneteenth as a significant milestone in the fight for civil rights. . Observing Juneteenth provided companies an opportunity to demonstrate their commitment to diversity, inclusivity, and engage in meaningful conversations around racial equity.
The widespread adoption of Juneteenth celebrations by companies can also be attributed to the efforts of grassroots organizations, employees, and activists advocating for the recognition of the holiday. Through petitions, public campaigns, and internal advocacy, employees and external stakeholders called upon businesses to officially observe Juneteenth as a paid holiday or a day of reflection and education. Many companies responded to these demands by granting employees a day off or organizing educational events and activities to commemorate the holiday. This collective pressure from within and outside the organizations played a pivotal role in motivating companies to embrace Juneteenth as an important day in American history.
Company Controversies (The Walmart Debacle)
While the optics of mainstreaming Juneteenth can be seen as largely positive, embracing the holiday has not been without hurdles.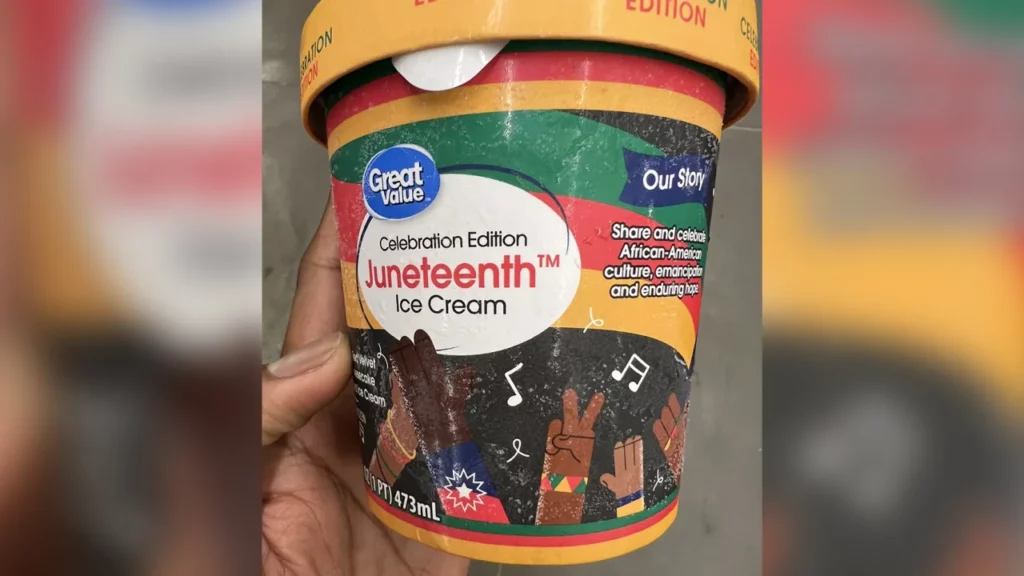 In 2022, commerce giant, Walmart came under public scrutiny after releasing a red velvet flavored ice cream to promote Juneteenth. This decision was by in large received negatively with detractors criticizing Walmart for commercializing a holiday meant to symbolize liberation. In addition many were quick to point out the problematic nature of the retail giant capitalizing on the holiday. Of course they did so as Black-owned ice cream companies had been releasing flavors celebrating the holiday for years.

In response to the backlash, Walmart rolled back the product and issued an apology. However,as tone deaf as Walmart's decision seemed to be, it wasn't an isolated incident. Multiple companies attempted to capitalize off Juneteenth and received similar push back.
Conclusion
"American independence" stands as both the most agreeable, yet most contentious topic in the United States. Feelings and opinions on this topic especially ramps up when discussing July 4th, federally recognized as Independence Day. When the conversation about American independence regarding this day gets discussed, the argument arises of "Who truly gained independence?" There exists this long standing notion that while July 4th embodies this nation's independence from British rule, it leaves out the entire story of the enslaved.

Juneteenth serves as a way for the descendants of the enslaved, to not only tell their story, but also celebrate their tribulations after facing overwhelming trials. While it isn't the pinnacle of equity, recognizing Juneteenth serves as another bend towards justice in that moral arc that Dr King passionately spoke of in 1968.
Updated on June 19, 2023 by Ken Cheng