So what is the 6SN1145-1BA01-0DA1?
The Siemens 6SN1145-1BA01-0DA1 is a Simodrive Infeed/Regenerative Feedback Module with Closed-Loop control. This module is used to connect the drive group to the line supply. Specifically, it is used to input power into the DC link. It also provides the electronics power supply for the connected modules. The 6SN1145-1BA01-0DA1 does not have an comprehensive overload protection. This protection must be provided by the configuration and the correct setting of current values on the control boards.
The 6SN1145-1BA01-0DA1 forms the step-up converter for controlling the DC link voltage and allowing a regenerative feedback. This module can be used for a variety of applications, including the following:
Machines with high dynamic requirements placed on the drive.
Frequency braking cycles and high braking energy.
Control cabinet designs optimized for low operating costs.
This I/R module, the UI and monitoring module are located as the first module to the left of the drive group. The mounting surface of the infeed module and drive modules as well as the commutating reactors and line filter should be mounted to the mounting panels through a low resistance connector like  galvanized plates or panels.
The 6SN1145-1BA01-0DA1 has a total of 6 LEDs for local signaling as show below:


Here is what each LED indicates:
1 LED red – Electronics power supply ± 15V faulted
2 LED red – 5V voltage level faulted
3 LED green – External enable signals not present (terminal 63 and/or terminal 64 missing)
4 LED yellow – DC link charged (normal operation)
5 LED red – Line supply fault

Commutating reactor not available, incorrectly installed or incorrectly selected.
System fault level of the line supply or transformer too low.

6 LED red – DC link overvoltage

Possible Causes

Regnerative feedback off
Setting up operation
Line fault
PW either not operational or too small
Line supply voltage too high
Dynamic overload
Line filter inserted between I/R and the commutating reactor.
View the 6SN1145-1BA01-0DA1's wiring diagram from the manual below: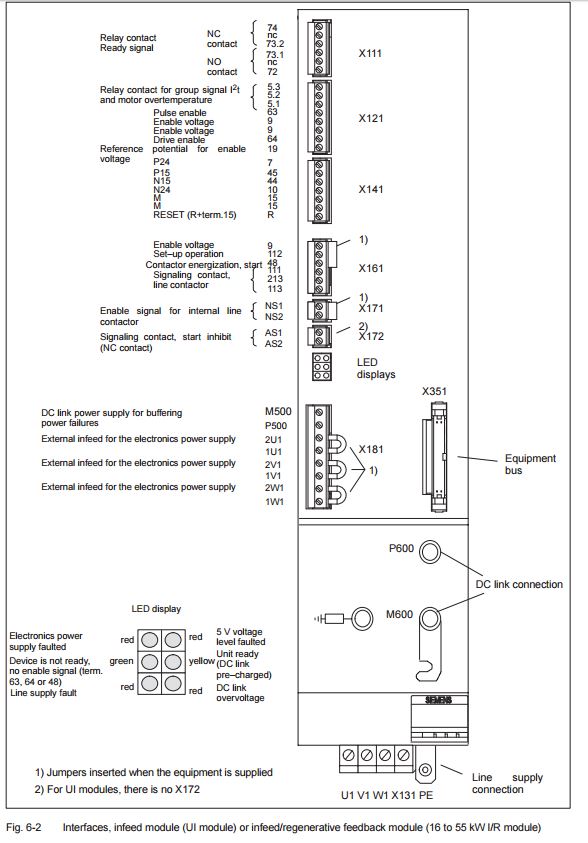 MRO Electric has new and refurbished 6SN1145-1BA01-0DA1 Simodrives in stock. For more information or to request a price quote, email sales@mroelectric.com or call 800-691-8511.