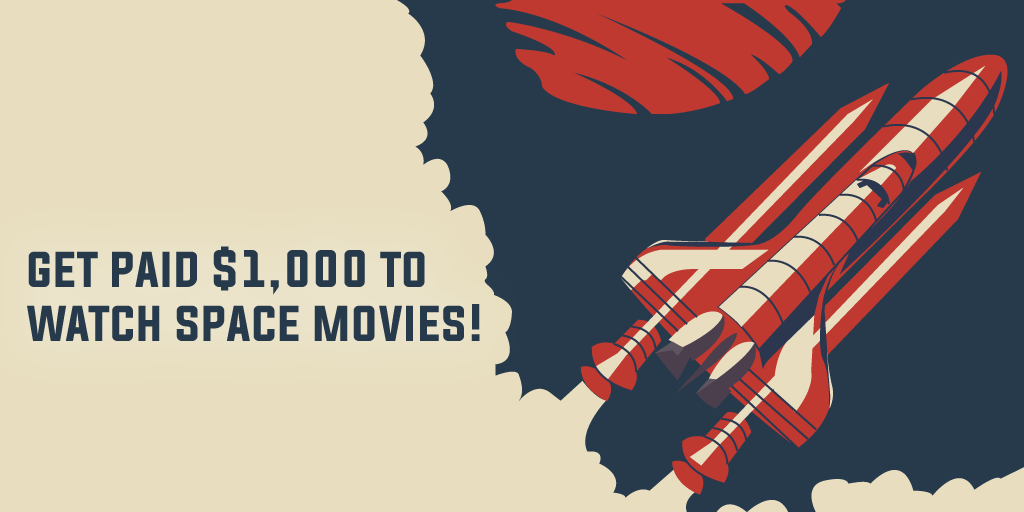 Summary
Think you got what it takes? Could you suit up, lock into the cockpit of a space shuttle, give your friends and family one last wave, and blast off into heavens unknown? No? Well, it's not for everybody. At least not the everyday person. However, some of planet Earth's ultra-rich billionaires are flaunting planet-sized wads of cash to take their shot at the stars.
Jeff Bezos and Richard Branson have now both gone to space. Even William Shatner (yes, Captain Kirk) did it. Maybe you have the stomach for it, too; maybe not. Either way, you probably won't get the chance any time soon unless you're a billionaire. But you can do the next best thing—and get paid for it in the process!
At MRO Electric, we're fascinated by the automation processes and systems that make these incredible interstellar flights possible. That's why we're looking for someone to watch 12 space movies. And we're offering $1,000 to the chosen applicant.
Who We're Looking For
We're looking for a seasoned space movie voyager willing to trade a cockpit for the couch, a space suit for pajamas, and dehydrated rations for popcorn and a Big Gulp. In addition to watching space movies, you'll be asked to take notes and track specific details in each of the movies.
The ideal applicant will have:
Overall enthusiasm for space travel
Love for movies, especially the science fiction genre
Strong attention to detail
The ability and availability to watch 12 movies within one month's time
Additionally, applicants must be 18 years or older and a U.S. citizen or permanent resident to apply.
What You'll Need to Do
We've narrowed down the vast galaxy of classic space movies to a list of 12 that you'll be asked to watch over 1 month's time.
2001: A Space Odyssey
The Martian
Interstellar
Moon
Proxima
Passengers
Hidden Figures
Apollo 13
First Man
The Right Stuff
Gravity
October Sky
We will provide you with a worksheet to complete for each movie as you watch. All movies will need to be watched and all worksheets will need to be completed by December 23, 2021. We will incorporate your responses from the worksheet into a blog article to be published on the MRO Electric website.
How to Enter
To enter the contest, contestants MUST FOLLOW THE LINK BELOW to the entry form, where you'll be asked to tell us why you're the perfect person for this mission. Applicants' level of enthusiasm for space travel, movies, and science fiction will be a strong factor for consideration, so provide what you need to demonstrate how and why you love these subjects the most.
The deadline for contest entries is Friday, November 26, 2021. Contestants will need to submit their applications by that date in order to be considered.
We will select and notify the winner by December 2, 2021.
What You'll Get
The winner will receive a $1,000 payment upon satisfactory completion of watching all aforementioned movies and submitting notes taken throughout.
Contest Terms and Conditions
The promoter of this competition is MRO Electric whose principal office is located at 1652 Old Apex Road Cary, NC 27513.
Employees of MRO Electric or their family members or anyone else connected in any way with the competition or helping to set up the competition shall not be permitted to enter the competition.
Persons must be at least 18 years old, or otherwise have reached the age of majority under the laws of the state where they reside, in order to participate.
Only residents of the United States are eligible to participate.
VOID WHERE PROHIBITED.
There is NO ENTRY FEE AND NO PURCHASE NECESSARY TO ENTER THIS COMPETITION. Any purchase or consideration otherwise given by entrants will not improve one's chances of winning.
The route to entry for the competition and details of how to enter are available via www.mroelectric.com. Individuals may enter to win by clicking on the participation link on MRO Electric's website. Upon clicking the participation link, entrants will be asked to provide their name and contact information so that MRO Electric can notify the winner of the results.
The closing date for entry will be November 26, 2021. After this date, no further entries to the competition will be permitted.
Only one winner will be selected from the entire pool of eligible entries. The selection process will be at the discretion of MRO Electric. The winner will be required to complete certain tasks designated by MRO Electric. If the winner does not follow through with the tasks required of them, they will not receive the prize of $1,000.
The winner will be notified by email and/or letter within 15 business days of the closing date. If the winner cannot be contacted or does not claim the prize within 2 days of notification, we reserve the right to withdraw the prize from the winner and pick a replacement winner.
MRO Electric will notify the winner when and where the prize can be collected.
The winner agrees to the use of his/her name, image, and video in any publicity material. Any personal data relating to the winner or any other entrants will be used solely in accordance with current federal and state data protection legislation and will not be disclosed to a third party without the entrant's prior consent.
The winner's name will be available 28 days after the closing date by sending a stamped addressed envelope to the following address:

1652 Old Apex Road Cary, NC 27513

MRO Electric's decision in respect of all matters to do with the competition will be final and no correspondence will be entered into.