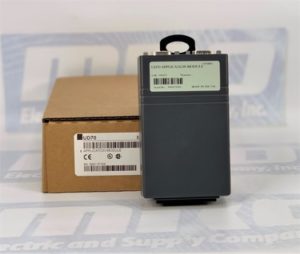 The Control Techniques UD70 Application Module with Modbus Plus interface for Unidrive is supplied in a large
option module package. The Modbus Plus interface uses the UD70
Applications Module card as a host, effectively making it a UD76 option module. An 80C152 processor and System Protocol Chip handle all Modbus Plus network activity, and a Dual-Port RAM interface is used to transfer data between the Modbus Plus layer
and the UD70.
The UD70 Application Module retains full functionality when it is part of the UD76 module, allowing the user to download normal DPL application programs. No program modifications are
required to allow existing DPL programs to run. A different UD70 operating system file ("MBPLUS.SYS") is used, and the UD70 has this system file pre-loaded. The UD70 also uses a second DPRAM interface to transfer data to and from the drive.
To install the UD70 Application Module, isolate the drive from the main supply and allow 5 minutes for the DC bus to discharge. Then insert the UD70 with the black tab facing up so that it clicks firmly into place. To remove the module, pull on the black tab and the unit will disengage.
Having problems with your Unidrive? Visit our repair page to get help now!