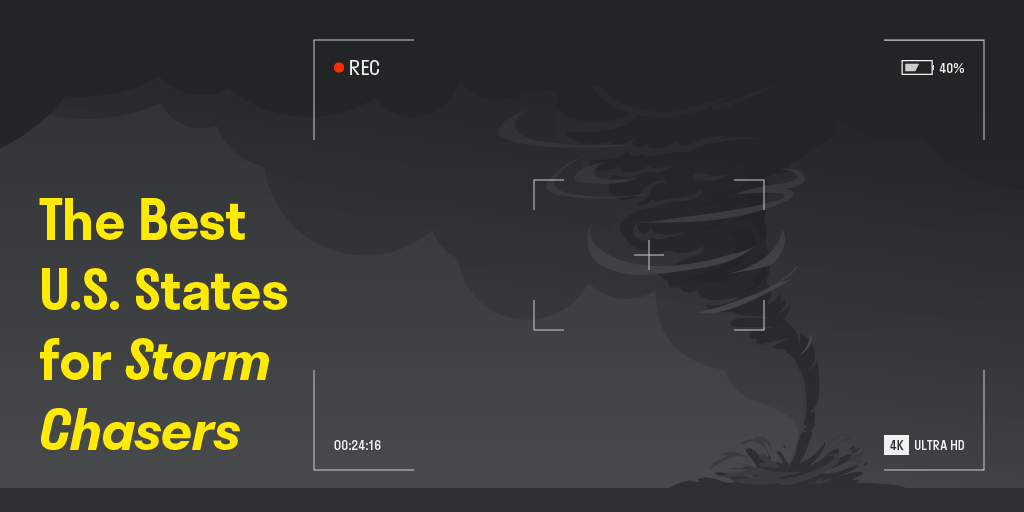 If "fear" is not in your vocabulary and "danger" is your middle name, storm chasing may be right up your alley. For individuals who are fearless enough to add "Storm Chaser" to their resume, MRO Electric determined the best states to keep a pulse on hurricanes, tornadoes, and tropical storms in the country.
In this study, we ranked the top 50 states across the country to chase cyclones based on several factors, including the number of tropical storms, hurricanes, and tornadoes within the past 5 years, average nightly price of temporary accommodations, average travel expenses, and more. Read on to find out if you're in a hotspot for hurricanes or if you'll have to venture a little further out to enter the eye of the storm.
Taking the Nation by Storm: The 10 Most Turbulent States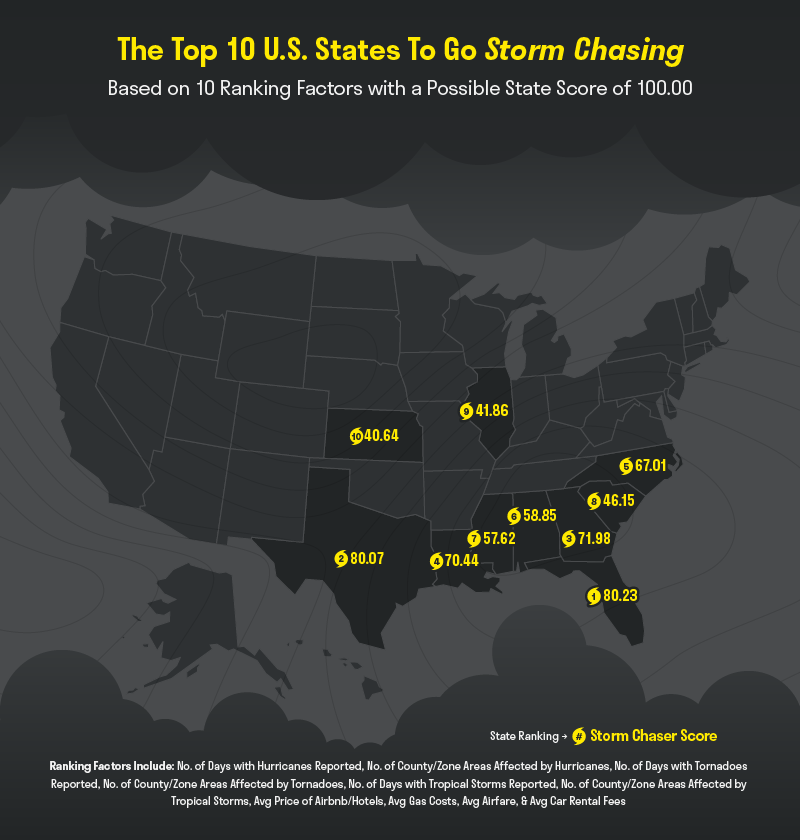 Storm chasers looking for a chance to be in the middle of the action should plan a trip to the southern and southeastern regions of the U.S. Our friends down south made up 8 of the top 10 states, making it the place to be for storm chasers all over the nation.
Florida is undoubtedly the place to be for any aspiring storm chaser. The Sunshine State comes in first on our list with a storm chaser score of 80.23. Florida reports more days of tropical storms than any other state in the country and frequently faces other natural disasters, like hurricanes and tornadoes. Average airfare to Florida is also cheaper than any other U.S. state, making it accessible to storm chasers who plan on trekking from parts unknown to catch a glimpse of the carnage.
If you feel tempted to chase after terrible tornadoes, your best bet might be to travel to Illinois or Kansas. These two states are the only states in our top 10 not located in the southern or southeast part of the country. Interestingly, they are also the only states in our shortlist to have reported impacts by only one of the storm types. Their impact from tornadoes being so exceptionally high was enough to put the pair in the top 10.
The Danger Zone: States That Get Hit the Most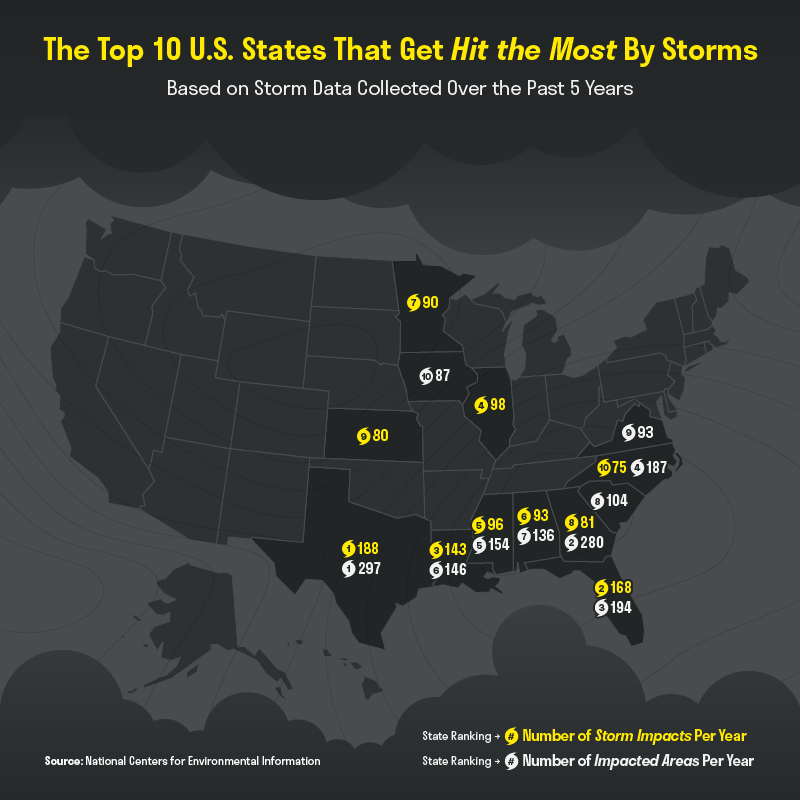 Texas had the highest number of storms at nearly 200 impacts in the past five years alone. When it comes to the sheer number of natural disasters, no one else comes close to touching the Lonestar State. In five years, Texans have had to grapple with 158 days of tornadoes, 7 days of hurricanes, and 12 days of tropical storms. If you're a veteran storm chaser looking for a challenge, remember everything's bigger in Texas.
Even though Illinois doesn't even receive a gold, silver, or bronze medal for states most frequently hit by storms, it definitely deserves an honorable mention. With only reporting impacts from one of the three storm types, it is the 4th state overall to get banged up regularly by storms. In just five years, it has reported nearly 20 tornadoes on average a year.
Though Texas was the state to experience storms the most frequently beyond any doubt, Georgia takes a surprising second for most areas hit by storms. Geographically, Georgia shares borders with four states on our top 10 states with the most areas hit by storms list. Residents in Georgia have to deal with disasters coming from every direction since Alabama, Florida, North Carolina, and South Carolina are more than happy to share some of the action with them.
Closing Thoughts
If you're no stranger to danger and love the thrill of hunting down disaster, storm chasing might be the perfect hobby for you. Storm chasers who are up for a challenge and a little traveling should head down south if they really want to test their mettle against some of the country's most terrifying storms and natural disasters. Just remember to keep safety and the cost of accommodation in mind.
Storms pop up in various regions and cause disruptions to our natural way of living. Storm chasers are crucial in tracking the patterns and reporting the conditions of these storms. More often than not, one common occurrence with these harsh weather conditions is power outages across hundreds of neighborhoods. That's why MRO Electric is committed to ensuring people across the country have access to trustworthy electric and power systems they can depend on during an emergency.
Full Data
That wraps up our state ranking for The Best States for Storm Chasers. Interested in diving deeper into the numbers for all of the states, or wanting to see how your state stacks up if it's not listed within the above map?
We've compiled our full data study for all 50 U.S. states and the District of Columbia analyzed into the interactive data table below. Search for the state you call home or click on the heading of each column to sort by that category!
Methodology
To find out the best states for storm chasers, we began with a list of all 50 of the U.S. states and the District of Columbia. We collected data on 10 factors that pertain to or impact storm chasers. We assigned states with a score of 0-5 for each factor, with a score of 5 representing the most favorable conditions. We determined each state's total score from the total of its individual factor scores, which were weighted according to their impact on storm chasers. Individual factor scores were then added together to give each state a final score from 0-100. Higher scores indicated states that are better for storm chasers. Details on our ranking factors can be found below.
| | | |
| --- | --- | --- |
| Ranking Factor | Weight | Source |
| Number of Days with Hurricanes Reported (in last 5 yrs) | 1.75 | NCEI |
| Number of Days with Tornadoes Reported (in last 5 yrs) | 2.75 | NCEI |
| Number of Days with Tropical Storms Reported (in last 5 yrs) | 2.75 | NCEI |
| Number of County/Zone Areas Affected by Hurricanes | 1.75 | NCEI |
| Number of County/Zone Areas Affected by Tornadoes | 2.75 | NCEI |
| Number of County/Zone Areas Affected by Tropical Storms | 2.75 | NCEI |
| Average Price of Airbnb/Hotels | 1.50 | Airbnb |
| Average Gas Costs by State | 1.50 | AAA |
| Average Airfare Into a State | 1.00 | BTS |
| Average Car Rental Fees | 1.50 | Kayak |