Simodrives 611 power modules can be used to operate the following motors:
1FT6, 1FK6 and 1FK7 servo motors
1FW6 built–in torque motors (direct drives)
1FN linear motors
1PH main spindle motors
Standard induction motors; if IM operation is selected, only inverter pulse frequencies of 4 kHz and 8 kHz are permissible.
1PM hollowshaft motors for main spindle drives (direct drives)
1FE1 main spindle motors
2SP1 motor spindle
Third–party motors, if according to the motor manufacturer the motor meets the requirements for sine modulation, insulation, and dV/dt resistance.
For special motors with a low leakage inductance (where the controller settings are not adequate), it may be necessary to provide a series reactor in the form of a 3–arm iron core reactor (not a Corovac reactor) and/or increase the inverter pulse frequencies of the converter. Motors with a low leakage inductance are, from experience, motors that can achieve high stator frequencies (maximum motor stator frequency > 300 Hz) or motors with a high rated current (rated current > 85 A).
A wide range of 1–axis or 2–axis power modules is available. These modules are graded according to the current ratings and can be supplied with three different cooling techniques. The current–related data refers to the series–preset values. At higher frequencies of the fundamental waves or for higher clock cycle frequencies, ambient temperatures and installation altitudes above 1000 m above sea level, power deratings apply as subsequently listed. Matched, pre–assembled cables are available to connect the motors. Ordering information is provided in the "Motors" section of the NC 60 catalog. Shield terminal plates are available to meet EMC requirements when using shielded power cables.
The equipment bus cable is included in the scope of supply of the power module. The drive bus cables must be ordered separately for the digital system. The current data of the power modules (PM modules) are normalized values to which all of the control units refer. The output currents can be limited by the control unit being used.
MRO Electric offers both New and Remanufactured Siemens Simodrives 611. Please visit our Siemens CNC and Automation Page for more information. You may also contact sales@mroelectric.com or call 1-800-691-8511.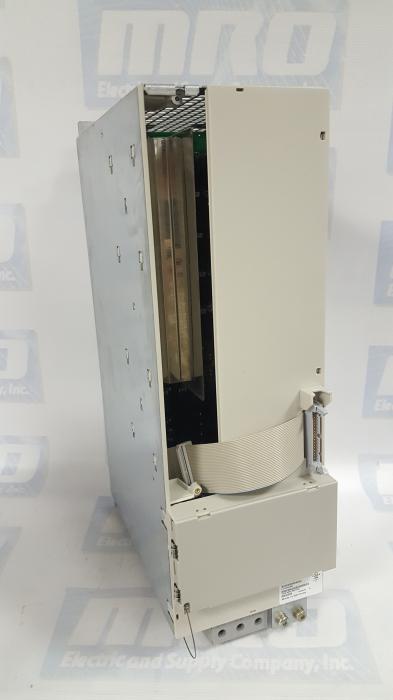 Siemens Simodrive 611