Any amount of downtime is too much for most companies. Parts will break from time to time, and repairs will be necessary. Here at MRO Electric and Supply we are dedicated to providing the best service making sure that your downtime is minimal. Human Interface Terminals(HMIs) are a crucial part of any automation process nowadays, so it is important to make sure it is working correctly. Along with selling both new and remanufactured products, MRO Electric and Supply offers both repair and exchange services.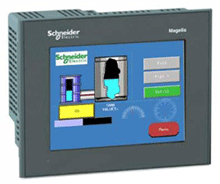 Modicon was the first manufacturer to release programmable logic controllers onto the market, and since have been one of the top brands for PLC's. MRO Electric and Supply have all the parts necessary to run the Magelis HMI at it full potential, including panels, cables, controllers, adapters and any software that may be needed. Along with repairs, we handle installations and programming of drives and controllers so that you don't have to.
We also offer the option to retrofit your old machines with newer interfaces for the most up-to-date applications and processes. By fitting existing HMI's with new interfaces you are able to add years to the life span of your automation set up. It is a lot easier to update and fix your existing displays and HMIs than taking the time and money to purchase and fit new parts.
All of our repairs come with a 12 month guarantee. Our repair service is based on doing the right job, and getting your part back to you as soon as possible. Every part we refurbish is tested to make sure they work the way they are supposed to. Our factory-trained technicians have many years working with Modicon products.
For a free Modicon Magelis HMI repair quote, please email sales@mroelectric.com or call 800-691-8511. For more information on our Modicon repair capabilities, you can visit our Modicon Repair page.