There are a couple ways to figure out if your FANUC motor has a keyway:
The first is if you can visibly look at the end of the shaft and see the holes on the end of the coupling. If your shaft has one hole at the end in the very center, it is a slick shaft. If the shaft has three holes in a line, that means you have a keyed shaft.
Another way to check if you have a keyed shaft without being able to look at the shaft is reading the OEM label on the FANUC motor. Your motor may have one of two types of labels on it, the first being a yellow FANUC sticker and the other being a silver G.E. FANUC sticker. All of the silver G.E. FANUC stickers on motors have a # suffix indicating a keyed shaft, except for the tag #7000 which indicates that it is actually a slick shaft. The pictures below show what each tag looks like with the # tag.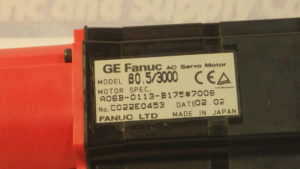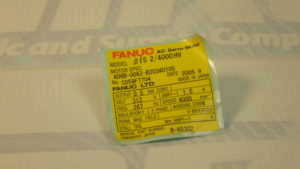 The yellow FANUC sticker is a little bit easier to determine. If the part number has the # tag at the end of it, it is a keyed shaft. If there is no # at the end of the part number, that means it is a slick shaft. Below is a picture of a yellow FANUC tag without the # tag.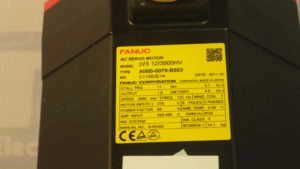 Be sure to check out our article focused on maintaining automation machine tools. Maintenance is unavoidable and compiling maintenance with unnecessary rebuilds is unpractical and will likely result in downtime and lost profit. We also offer top quality repair services on all drives. With a 100% guarantee 12-month warranty we will ensure you are happy with your decision to repair with MRO Electric.
MRO Electric and Supply has new and refurbished FANUC CNC parts available. We also offer repair pricing. For more information, please call 800-691-8511 or email sales@mroelectric.com.