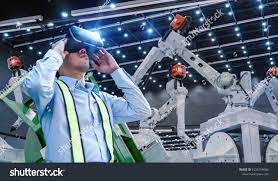 Virtual reality (VR) technology is revolutionizing the way industrial automation operates. Transforming the manufacturing sector, VR enables companies to create immersive training environments and digital prototypes that simulate real-world conditions. The benefits of VR in industrial automation are numerous, making it an increasingly popular tool in the industry.
The Brief History of VR
Virtual reality (VR) technology has a history that dates back to the mid-20th century. According to a report by the History of Human-Computer Interaction (HCI) research group. In the 1960s, computer scientist, Ivan Sutherland created the first device, the"The Sword of Damocles". It was a crude prototype that consisted of a head-mounted display and a tracking system. The device enabled users in experiencing computer-generated environments in a way that felt more immersive than any previous computer interface.
In the following decades, VR technology advanced rapidly, especially in the field of military simulation and training. The 1990s saw the commercial sector showing interest in VR technology. This led to the development of more advanced VR systems for use in video games, medicine, and other fields. Today, VR technology is more sophisticated and is used in various applications. This ranges from gaming and entertainment to education and training. Over the years VR technology has become more affordable and there has been wider development in VR software. This makes the technology more accessible to a much broader audience as it rapidly evolves.
VR's Effect on the Industry
There are different significant uses of VR in industrial automation. One is the creation of virtual simulations of production lines, assembly processes, and operating procedures. This enables engineers and operators to experience the manufacturing process from start to finish in a virtual environment. This improves their understanding of the process and reduces the risk of errors. One report by ResearchAndMarkets, estimates the market to grow from $4.08 billion in 2020 to $9.51 billion by 2025.
Another way VR is advancing industrial automation is through the use of digital twin technology. A digital twin is a virtual model of a physical system. It provides real-time data and insights into the system's performance. This allows manufacturers to monitor and optimize the performance of their machines in real time, reducing downtime and improving efficiency. MarketsandMarkets, predicts, the digital twin market to grow from $5.72 billion in 2018 to $35.8 billion by 2023.
Furthermore, VR is also being used in training and education in the industrial automation sector. Companies can create immersive training environments for employees. This allows them to experience realistic scenarios without putting themselves or others at risk. Additionally, this not only improves employee safety but also helps employees acquire new skills faster and more effectively.
Virtual reality is advancing industrial automation by providing a safer, more efficient, and more effective way to train employees. It simulates production processes and optimizes machine performance. VR's versatility and ability to provide real-time data and insights make it a vital tool in the industrial automation industry.