Terminal Modules are used to add further input and output interfaces to the S120 drive system. Terminal Modules are connected to the Control Unit using DRIVE-CLiQ.  DRIVE-CLiQ is a proprietary networking system by Siemens that aims to prevent packet loss and removes some of the collision handling capability. This allows for a high speed deterministic system, but also means that the protocol is not suitable for wireless or slip-ring communication. The TM120 module is used in evaluating temperatures. The temperature is monitored for the following sensors:
PT100
PT1000
KTY84
Bimetallic NC contact
The TM150 features 2 DRIVE-CLiQ interfaces, 4 temperature sensor inputs, and one power supply.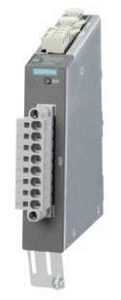 The part number for the Siemens SINAMICS TM120 terminal module is 6SL3055-0AA00-3KA0.
The SINAMICS TM120 is just one of many additional components that are available for S120 systems. These control units significantly reduce system costs, as they increase functionality for positioning, safety integration, and drive control allowing all these functions to be controlled by one unit versus several. There is also additional flexibility with a high number of programming options and digital inputs. With up to 12 binary inputs, the modules' high I/O count add ease of use. The additional Ethernet port expands programming options as well.
Does your Siemens SINAMICS TM120 module need to be serviced? As with all of our services, our repairs come with a 12 month guarantee. Our repair service is based on doing the right job, and getting your part back to you as soon as possible. Every part we refurbish is tested to make sure they work the way they are supposed to. Our factory-trained technicians have many years working with Siemens products. Minimize your future downtime today by contacting MRO Electric and Supply right now.
MRO Electric stocks new and refurbished TM120 modules. If you would like a replacement module, please call 800-691-8511 or email sales@mroelectric.com.