Human Machine Interfaces, or HMI's, are used extensively throughout the world to control and monitor automated machinery.  These devices provide touchpad and visual interaction to control manufacturing processes and perform daily tasks.  One of the most recognized HMI devices is the Automated Teller Machine (ATM).  These ATM devices intuitively interface with users through a keypad and monitor to readily transact bank deposits and dispense cash withdrawals.  They provide reliable 24-hour access to our daily banking needs.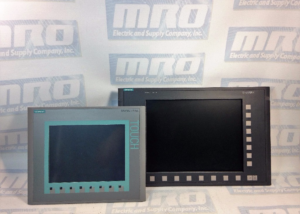 Various HMI devices are common throughout industry.  Many older HMI devices contain the original Cathode Ray Tube (CRT) monitor technology.  This older technology burdens the users and owner with several disadvantages:
High Energy Consumption – The CRT technology is not considered energy efficient.  It requires more power to operate than the newer LCD technology.  CRT screens consume 3 – 4 times the energy when compared to the LCD screens.
Expensive to maintain – CRT repairs are becoming more specialized and expensive as the workforce transitions to the newer technologies.
Obsolete Components – CRT technology is outdated and beyond its life cycle.  Components required to support repair are becoming obsolete and expensive if available.
Avoid costly new operator interface packages – MRO upgrades to LCD technology maintain the interface packages with your existing equipment (frames, communication connections, power sources, etc.).  Updated HMI's from MRO are plug-n-play.
Better Reliability – Heat generated by the CRT technology often shortens the life of the electrical circuit components.  CRT monitors tend to have a life of 18,000 to 20,000 hours.  LCD monitors provide more than 100,000 hours life.
Clarity of Picture, Crisp Image – LCD's make the screen burn often associated with CRT's a thing of the past.  LCD image display is much clearer for the operator and will not fade.
MRO provides an HMI service to update your old CRT displays to LCD technology and new keypads.  This approach is a low-cost upgrade to superior technology with no risks. Visit our repair page, call us, or email us for an instant quote on fixing, swapping, or purchasing your new HMI device.
Our top HMI manufacturers include: