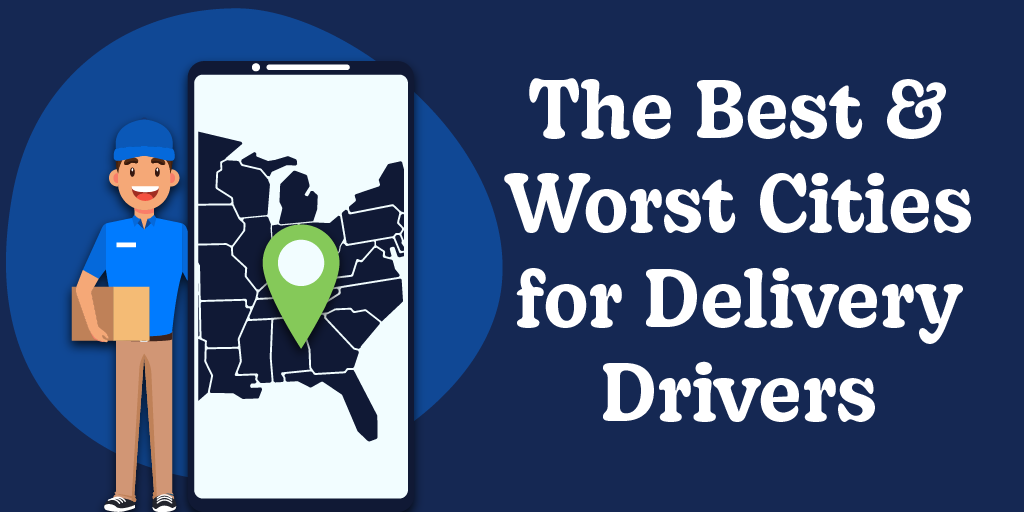 As a delivery driver, you are the vital link between online clicks and the gratifying thump of a package arriving on the doorstep. Whether it's that last-minute inflatable unicorn floatie for the pool party or a bulk order of printer ink and toilet paper, you're the unsung hero who makes it happen. Yet, the delivery driving experience can differ dramatically from one city to the next.
We put 100 U.S. cities under the microscope, examining factors like hourly wages, road conditions, availability of public restrooms, and more to discern the dream destinations and the nightmare no-gos for delivery drivers. Curious about where your city stands? Buckle up, and let's hit the road!
The 10 Best & Worst Cities for Delivery Drivers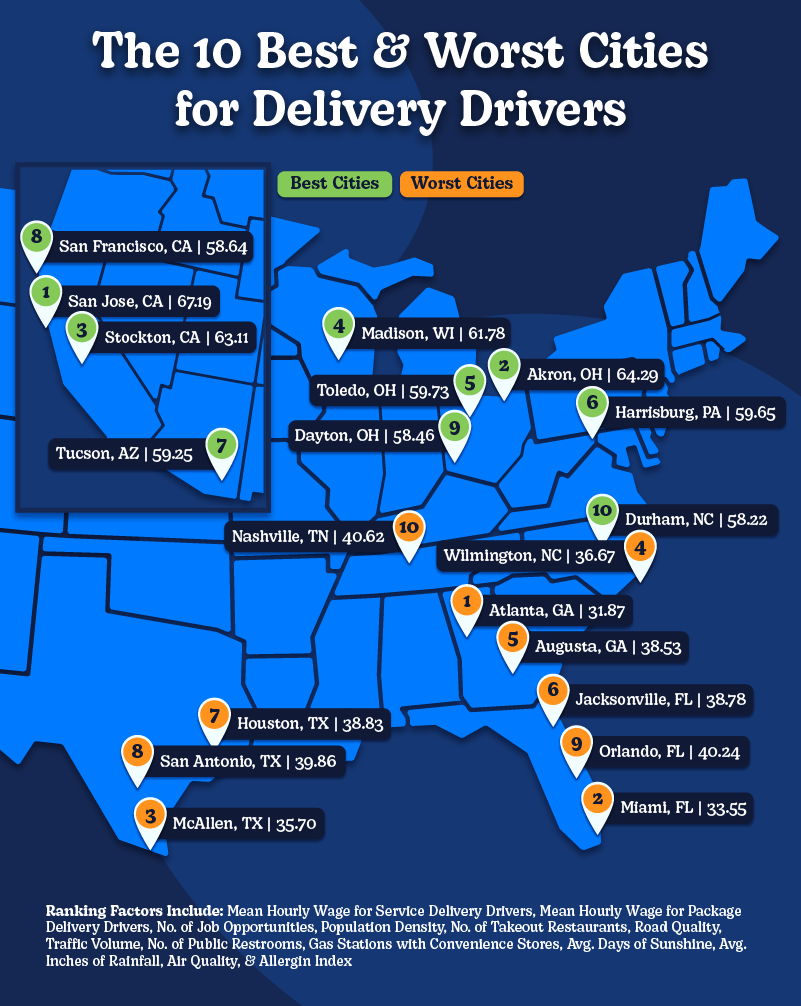 The results are in, and San Jose, California, sets the bar as the top U.S. city for delivery driving with the two keys to a driver's heart: great pay and smooth roads. Not only does this Silicon Valley hub offer the most generous paychecks in the industry, but the well-maintained roads make a day behind the wheel much less jarring and more enjoyable.
But, it doesn't stop there. San Jose enjoys an impressive 257 sunny days a year and moderate temperatures that rarely veer to extremes.
On the flip side, despite its undeniable charm and vibrant culture, Atlanta, Georgia, presents a more challenging scenario. The city's roads could use some work and are often gridlocked, turning each delivery into a test of patience, skill, and vehicle suspension.
For delivery drivers who rely on convenient pit stops along their routes, Atlanta's sparse public restrooms pose a logistical challenge, adding unnecessary stress to an already demanding job.
The Best Cities for Delivery Drivers by Category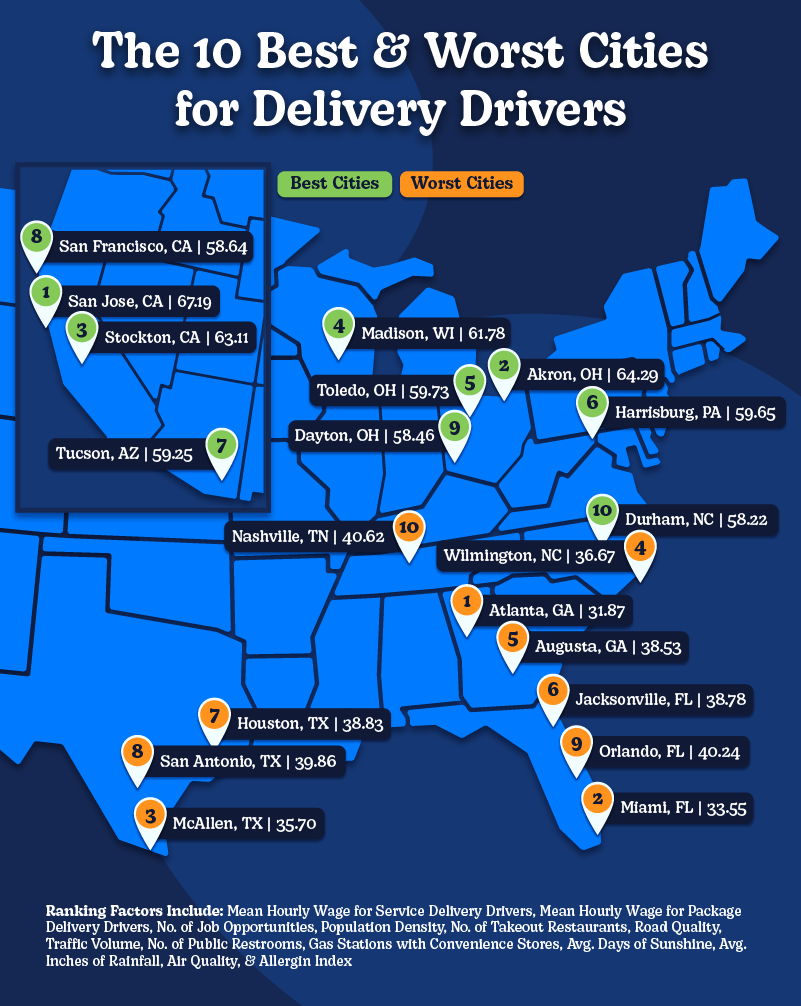 Looking for delivery driver opportunities? Harrisburg, Pennsylvania, is a beacon of opportunity. The bustling capital city boasts over 2,800 job listings for delivery drivers, the most per capita of any city we analyzed.
Meanwhile, the Golden State of California dominates the Salary category, with San Jose, San Francisco, Stockton, and Sacramento sweeping four of the top five slots making it a powerhouse for delivery drivers aiming for high earnings.
Imagine driving where the sun always shines, the roads are open, and the weather is your ally, not your adversary. When it comes to performance factors that make a day behind the wheel feel more like a Sunday drive, Tucson, Arizona is the clear winner. With one of the lowest traffic volumes of any city we analyzed, ample sun-filled days, and minimal annual rainfall, Tucson is a true delivery driver's paradise.
Closing Thoughts
While our study reveals some stark differences in the day-to-day experiences of delivery drivers from city to city, it's a demanding job requiring stamina, patience, and a level head, no matter where you drive.
At MRO Electric, we salute the tireless men and women who take to the streets of America, delivering our packages safely and on time. Without you, we couldn't offer same-day shipping and the optional overnight shipping on our factory new surplus and remanufactured products.
MRO can find and deliver the part you need, fast– contact us today!
Full Data
Not seeing your city above? No worries, you can still see how it stacks up! We compiled our full data study for all 100 U.S. cities into an interactive data table below. Search for the city you call home or click on the heading of each column to sort by that category.
Methodology 
To find the best cities for delivery drivers, we started with a list of the 100 most populated cities in the U.S. and ranked them from 1 to 100 based on factors that would be important to delivery drivers. Next, we divided those factors into three categories: salary, job opportunity, and performance-affecting factors. We then assigned weights to each factor depending on its importance to a delivery driver. Finally, based on those weights, we gave each city we analyzed a score out of 100. See the table below for a detailed list of the factors we used and which category they fell under.
| | | | |
| --- | --- | --- | --- |
| Ranking Factor | Ranking Factor Category | Weight | Source |
| Mean Hourly Wage for Service Delivery Drivers | Salary Factor | 2.00 | BLS |
| Mean Hourly Wage for Package Delivery Drivers | Salary Factor | 2.00 | BLS |
| No. of Job Opportunities | Job Opportunity Factor | 2.00 | Indeed |
| Population Density | Job Opportunity Factor | 2.00 | Census |
| No. of Takeout Restaurants | Job Opportunity Factor | 2.00 | YellowPages |
| Road Quality | Performance Affecting Factor | 2.00 | CoPilot |
| Traffic Volume | Performance Affecting Factor | 2.00 | County Health Rankings |
| No. of Public Restrooms | Performance Affecting Factor | 0.50 | Pee Place |
| No. of Gas Stations with Convenience Stores | Performance Affecting Factor | 0.50 | Census |
| Avg. Days of Sunshine | Performance Affecting Factor | 1.50 | Best Places |
| Avg. Inches of Rainfall | Performance Affecting Factor | 1.50 | Best Places |
| Air Quality | Performance Affecting Factor | 1.00 | EPA |
| Allergen Index | Performance Affecting Factor | 1.00 | AAFA |