The Siemens SINAMICS DME20 DRIVE-CLiQ Hub Module is used to implement a star-shaped topology of a DRIVE‑CLiQ line. Two DME20 DRIVE‑CLiQ Hub Modules can be connected in series. Signals from more than one encoder can be collected with one DRIVE-CLiQ Hub Module and forwarded to the Control Unit through a single DRIVE-CLiQ cable. The Siemens SINAMICS DME20 is used to connect direct measuring systems for the feed axes and expansion axes of the S120 Combi.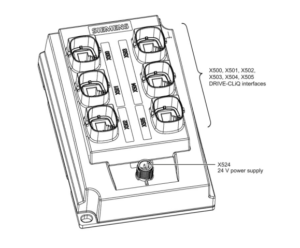 The DME20(6SL3055-0AA00-6AB0) DRIVE-CLiQ hub module offers the following features:
6 DRIVE-CLiQ sockets for connecting up to 5 more DRIVE-CLiQ modules
1 connection for the power supply module via 24V DC circular supply connector
4 x 0.75 mm pins (pins 1 and 2 are bridged, along with pins 3 and 4)
The SINAMICS DME20 uses the Siemens STARTER software to parameterize and commision drive units. The STARTER commissioning tool can be used for commissioning, testing through a control panel, drive optimization, diagnosing drives, and setting up and running built in safety functions. The tool offers support for various operating wizards, running trace functions to optimize drive controllers, creating and copying data records, loading projects from the programming device to the target device(and vice-versa), along with so much more.
Does your Siemens SINAMICS DME20 hub module need to be serviced? As with all of our services, our repairs come with a 12 month guarantee. Our repair service is based on doing the right job, and getting your part back to you as soon as possible. Every part we refurbish is tested to make sure they work the way they are supposed to. Our factory-trained technicians have many years working with Siemens products. Minimize your future downtime today by contacting MRO Electric and Supply right now.
For a free repair quote on DME20 hub modules, please email sales@mroelectric.com or call 800-691-8511.  For more information on our Siemens repair capabilities, you can visit our Siemens Repair page.
Updated on March 2, 2020 by Brian Hughes