The Square D EDB34030 is a three pole, 30 Ampere circuit breaker. At 277V, this miniature breaker is reliable, sustainable, efficient and safe.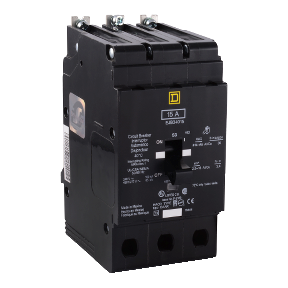 Part Number: EDB34030
Item Weight: 3.6lbs
Product Dimensions: 9.7 x 6.1 x 4.5 inches
Voltage: 480V
Amperage: 30A
Trip Rating; 875A
Mounting Mode: Bolt-on
Interruption Rating: 18kA
Square D EDB breakers by Schneider Electric are available in a range of amperages varying from 20A to 60A. This particular model, the EBD34030, is 30A.
This breaker is set apart from other breakers because of its compact size at 9.7 x 6.1 x 4.5 inches, while the typical breaker is around 8 x 8 x 12 inches. As a bolt on mount, it is preferred in commercial and industrial applications where vibrations might be considered an issue. When installing, be sure to use the recommended #12-#6 AWG AI or #14-#6 AWG Cu Lug wire. This breaker is ideal for NF series panel-boards to offer superior overload and short circuit stability by utilizing thermal magnetic protection. It is also HACR rated, UL listed and CSA certified.
MRO Electric and Supply stocks Square D circuit breakers, including the EDB34030. For more information or to request a quote, please contact us at 800-691-8511 or at sales@mroelectric.com.