The Magelis XBTGT7340 is an advanced touchscreen panel with with a backlit color TFT LCD display. It has a display size of 15 inches and a resolution of 1024 x 786 pixels XGA. The panel uses a Magelis operating system  and a CPU RISC processor with a frequency of 266 MHz. It contains 512 kB of SRAM backup memory. It also has a slot for a compact flash card for 12 MB  to 1 GB of additional storage.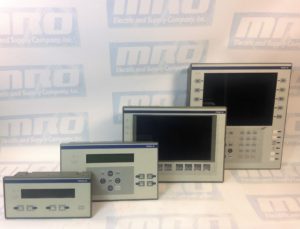 The backlight lifespan on an XBTGT7340 lasts 50,000 hours, so it may be time for your panel to be repaired or replaced if you are experiencing display problems on an older unit. 
The XBTGT7340 panel is equipped with a number of diagnostic features that can be used to check its system and interface for any troubleshooting issues. From the "Settings" menu, touch the "Offline" tab and then the "Self Test" icon to access these features. The Self Test checks the following functions: Character Pattern, Display Pattern, Touch Panel Cells, COM 1 & 2, and Video Memory. The message "NG" will appear on these tests if there is an error.
It is important that regular cleaning of the front panel and gasket is performed. When the surface of the display gets dirty, soak a soft cloth in little water with a neutral cleaning solution and wipe the display. The gasket on the XBTGT7340 protects the unit and improves its resistance to water. If the gasket has been in use for a long period of time, it may have scratches and debris on it, which can reduces the unit's water resistance. Be sure to change out the gasket at least once a year, or if any visible damage or dirt is apparent on it.
MRO Electric stocks new and refurbished XBTGT7340 panels. For more information or to request a quote, please call 800-691-8511 or email sales@mroelectric.com.