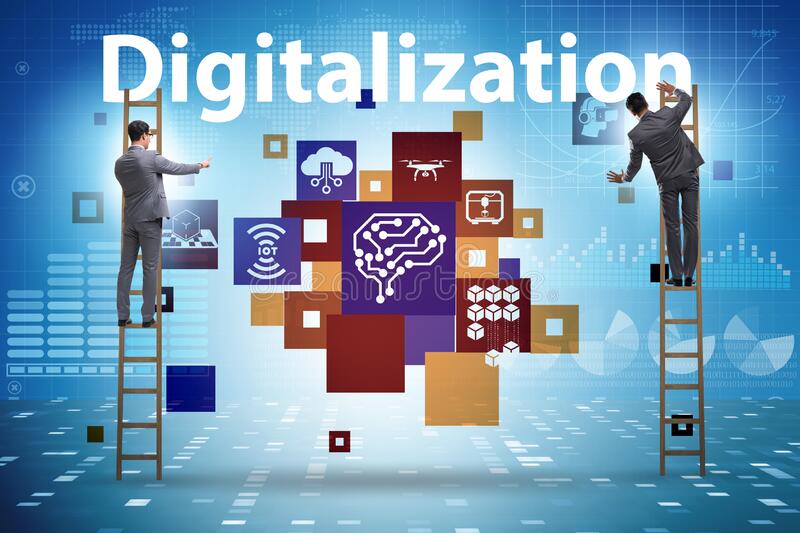 A Brief History
For the longest time, automation has always been the end-goal process when it comes to industrialization. That is that the user can quickly and efficiently complete a process repeatedly. Whether that process involves production or maintenance, the last two decades have seen a monumental rise in digitalization across numerous industries. Of course, digitalization is not a stranger to the world of automation machinery (and it would be incorrect to conflate that one is the opposite of the other). As it stands, all of the major industrial companies have some form of proprietary software that they use to automate their machinery and it's been that way for several decades. However, in research done by Forrester, 77% of businesses today still rely on a paper process, with only 63% still using spreadsheet programs. Ultimately, this makes it more difficult to keep up with customer demands, and really wanting for a more streamlined process.
Automation and Digitalization
What is Automation?
Automation physically performs a process without the constant need of a human operator. Its tasks are dedicated by a group of rules preset by an operator usually in the form of either script commands or more robust software pending on what the task is.
What is Digitalization?
Digitalization is basically the process of taking a hard copy of something and converting it into a digital format. This could be anything from a worded manual or even a photo. Digitalizing is crucial to automation because it is how an automated process interprets data to commit to a function. The last few decades have seen a progression in the control of industrial automation from manual to digital.

The Possibilities
One example of how digitalization can streamline automation is through the way tasks and functions are being given to a piece of industrial equipment. For the longest time, equipment like automoted robots in manufacturing have been relying on external devices like PLCs (Programmable Logic Controllers) to output individual commands. These are all multiple components linked together on a bus and then connected to the drive and other components. This is the current setup for a lot of industrial and manufacturing operations.

While this setup does get the job done, it does present a few issues.

For starters, communication is one of the most important things when automizing. When multiple components come into play, there is always the chance of communication issues between devices. This can be attributed to various issues, like conflicting software between the devices or even simply how something is connected. There is also the issue of troubleshooting and trying to figure out the cause of an existing issue. With digitalization, instead of having a bunch of devices trying to talk to one another, there can be just one fully-integrated device using a single software. Having instant diagnostics would also cut down on troubleshooting time.
A Little Thing Called BIM
One piece of digitalization that could potentially change the way automation works is actually a technology that is becoming more prominent in the field of architecture and engineering called BIM (Building Information Modeling). What is BIM? In short, BIM is a digitalized way to create and manage data in the design, construction, and operation of products. Often it is used by architects, engineers, and construction working on sophisticated buildings. It allows for multiple teams to collaborate in real-time as they are working on a project. The same technology could virtually model the layout of a factory and could share accurate data in real-time across multiple teams.

Imagine an entire manufacturing setup being represented by a virtual model that is constantly sharing diagnostics of the equipment. If something were to break down or get faulty, the diagnostic could alert the technician, and using the virtual model, they can get a better visual representation of what is causing the issue and where it can be found. Simultaneously an alert can be sent out across different departments so that different teams can quickly communicate and come up with solutions to the problem. This in turn saves time on labor and the cost of troubleshooting.


Final Thoughts
Automation has always been and continues to be the end goal for many companies across multiple industries. With digitalization allowing for the process to function more autonomous than ever, it seems we are moving further along into a world of unfettered interconnectivity. As the digitalization of automation continues to progress, the acknowledgment of anxiety over its effects on human employees cannot be ignored. If everything is fully automated and more streamlined, what place does the employee have?
One issue that we need to consider is how automation will affect socioeconomics. From an optimistic point of view, one could argue that the present automation has already done away with a lot of the 'human element', and the margins of laying off workers would be small, especially when a company could train up employees to learn the technology.

On the other hand, we're talking about a situation where only a handful of positions are available. Often, a company would rather onboard someone who already has experience rather than train an existing employee. Automation could pessimistically mean that both low-skilled and specialized employees both have a hard time finding work. On one end when most of the general tasks can be automated why would a company need to hire humans? Not to mention that exists a ceiling with just how many specialized jobs exist versus how many specialized employees compete to fill those seats. This is an existing issue we can see across multiple tech sector positions today.

What the solution is, remains to be seen. While the advancement of automation is crucial to productivity, it is something that should be treated cautiously in regards to how it affects the working person.