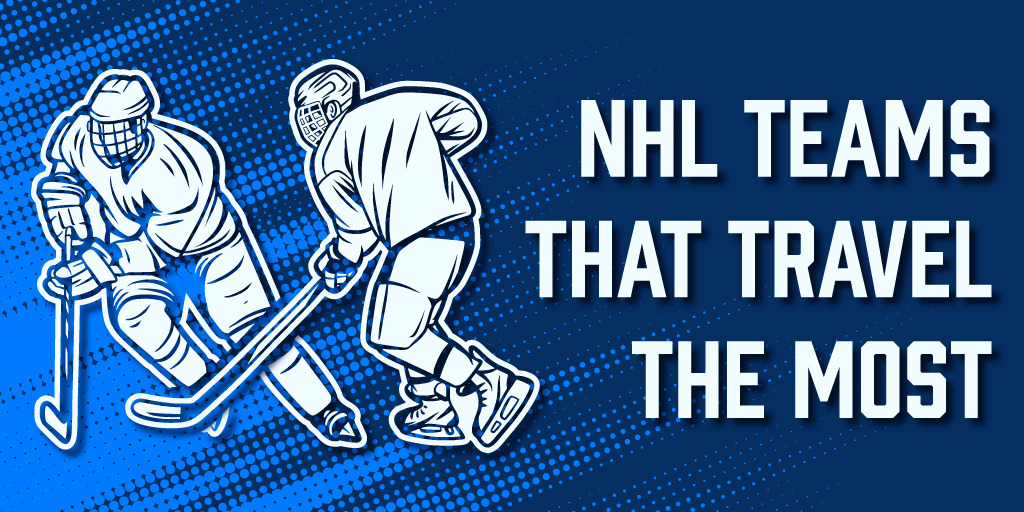 There's nothing more thrilling than attending a sporting event to watch your favorite team take on a tough opponent. Home games are a blast, but traveling to a new city to watch your team can be an equally exhilarating experience. For fans, traveling for one game can be a whirlwind to plan, but athletes are traveling multiple times a week – especially hockey players.
NHL players have many games a week, and several teams are based outside of the U.S., meaning they spend a lot of time on the road during the season. There's a lot that goes into getting your favorite players on the ice on time. On average, your favorite NHL team travels nearly 50,000 miles per season!

For this study, MRO Electric's resident hockey fanatics analyzed how many miles each team is slated to travel based on the upcoming season.
Methodology
To gear up for hockey season (and for this study), we reviewed each team's schedule on ESPN to see where everyone will skate off to. Next, we used Google Maps to calculate the mileage between each hockey game of the 2022-2023 season for every team in the league. This study assumes that each NHL team is driving to and from each game and doesn't need to travel elsewhere for personal reasons. We measured the travel time back to home ice, meaning that if a team spent multiple games on the road, we calculated the distance between each venue on the road and then the trip home. Finally, we found which teams travel the most and which individual games require the most miles to get from point A to point B.
Top 10 NHL Teams Traveling the Most Miles in 2022-2023 Season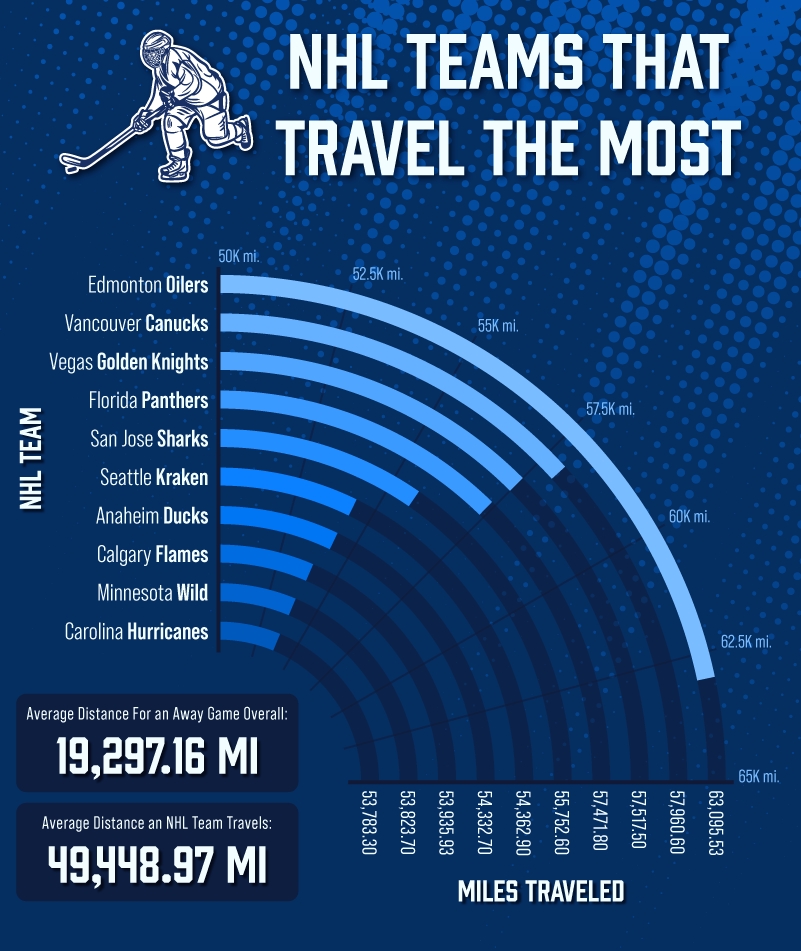 If your favorite hockey team is a part of the pacific division, chances are your star players are traveling far and wide to push the puck. Pacific division NHL teams account for seven of our top 10 most traveled teams. The majority of teams in this division have at least a handful of games that require trekking over 2,000 miles and several more that clock in at just over 1,000 miles. Not only that, but the league's average distance for an away game overall is just over 19,000 miles. Talk about going the distance!
The most well-traveled team in the league is Edmonton's own Oilers. The Oilers claim the unofficial title of the NHL's top road warriors, traveling over 5,000 more miles than any other hockey team in any division. The Edmonton Oilers have nine games that require them to travel 2,000 miles or more to get to. Oiler fans in the Sunshine State who support them on November 12th will have traveled nearly 3,000 miles to get there.
Another Pacific dream team to go the distance is the Anaheim Ducks. On October 18th, Anaheim's beloved Ducks travel over 2,000 miles to face off against the New York Islanders. New York is a fighting city and the Anaheim Ducks are a tough bunch to tussle with. Fun fact: these mighty mallards came in second place last season for most fights on the ice. Can you blame them though? Any hockey team that is jet-lagged is bound to be a little crabby.
Many of the league's east coast teams have the luxury of being some of the least-traveled hockey teams, but one unlucky franchise has to hit the road more than the others. The only team in the NHL's metro division to make our top 10 list was the Carolina Hurricanes. Caniacs (that's Carolina-speak for huge Hurricanes fans) have to travel nearly 2,800 miles from Raleigh to San Jose to support the Cardiac Canes at their most distant away game of the season.
Hitting the Road: Games with the Highest Mileage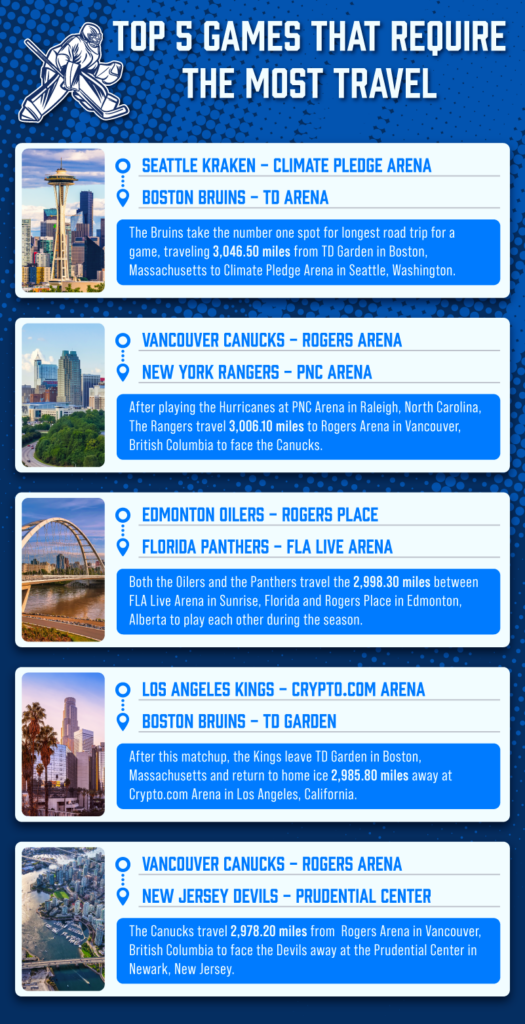 Teams on the road travel great distances to compete against each other on enemy territory. Many teams in the league will have a few consecutive games away from having home-ice advantage. Not only is it tough to be away from home for extended periods of time, but it's even worse when you're getting booed for being on the wrong team.
If you ever question your favorite team's commitment to the game, consider that the distance the NHL would travel as a whole this season would take you around the globe 63 times and from LA to NY 569 times! Truthfully, NHL teams go through many hoops to play their hearts out game after game. For fans wondering how far their teams will go to put on a good show, here's a closer look at some games that require the most travel from rink to rink.
We're certain that the New York Rangers will not be feeling the love during Valentine's day week this hockey season. The Rangers have to travel just over 3,000 miles after rallying against Raleigh's Carolina Hurricanes to face off with the Vancouver Canucks on February 15th. That's a lot of pressure– winning against the Canucks could mean breaking a few fans' hearts in Vancouver. Oh well, all is fair in love and hockey.
The most gas-guzzling NHL game of the regular season takes place in the Emerald State, where the Boston Bruins will take on the Seattle Kraken. The Bruins will have to travel a total of 3,006 miles to take a shot at Seattle. The only two hockey games on our list of games with the highest mileage not involving our friends in the Great White North both feature Boston in some way. In December, the Los Angeles Kings will journey 2,985 miles to square off with the Bruins in Bean Town.
Closing Thoughts
Whether your favorite hockey team has the home-ice advantage or not, cheering them on against a fierce competitor can be an emotional whirlwind. The truth is, your commitment to your favorite team means a lot to them– especially when they're in enemy territory. NHL hockey players travel between cities and sometimes countries multiple times a week to make it to the game. There are many moving parts that go into making sure your favorite players safely get from venue to venue, so consider that next time you cheer them on against a tough rival team!

In the same way, your favorite NHL team has a lot of moving parts and players, your business needs a solid system and plan to make it all happen. As a premier factory automation wholesale distributor, MRO Electric can help your business by working with the best manufacturers to get you the best parts to get the job done.