At MRO Electric, we are constantly fine-tuning and upgrading our repair capabilities and turnaround times. We perform Siemens drive repairs and refurbishments on Simodrives, Sinamics, Sinumerik, Micromaster, and Simoreg drive series. We also perform repairs on Simatic panels and a variety of Siemens motors. We offer quick, pre-priced repair estimates so you know from the beginning how much your repair will cost.
Our mission is to keep our Siemens drive repairs to the highest quality standards while retaining our lowest cost guarantee. We want to get your machine back up and running as quickly as possible. Our normal turnaround time for Siemens drive repairs is 7-10 days, but we can often accommodate rush repair jobs if necessary.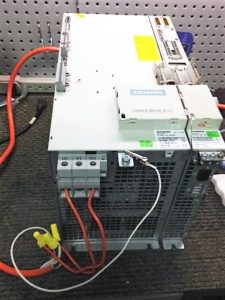 Once we receive your Siemens drive, it is thoroughly cleaned and visually inspected for any visible deficiencies. We then methodically test every component on the drive, replacing any that no longer function or meet our strict quality standards. After all faulty components are replaced, the drive must complete all of our functional testing requirements before being packaged and shipped back to its owner.
All of our repairs come with a 12-Month Complete Coverage Warranty. If any problems occur in that time frame, MRO Electric will repair or replace your drive at no charge.
For more information or to request a repair quote, please visit our Siemens Repair page. You can also email sales@mroelectric.com or call 800-691-8511.