TSX PLCs
TSX Nano PLCs are easy to set up and have numerous built in functions, such as memory for storing programs, battery-backed RAM, and real-time clocks for modules with 16 and 24 I/O's. They can be installed easily on a mounting rail or base plate in the vertical or horizontal position. TSX PLCs are programmed in lists of instructions using the FTX 117 programming terminal, in Ladder or Instruction list language using software on an FT 2000, FTX 517 terminal or PC compatible. They can be used to augment extendable TSX PLCs using a single extension per base. Depending on the model they have
16 I/O : 9 inputs + 7 outputs
24 I/O : 14 inputs +10 outputs.
The following types of inputs and outputs are used:
Inputs : 24 Volts
Outputs : Relay outputs for models with ~ 100… 240 Volt power supply, transistor outputs with positive logic for models with 24 Volt power supply.
I/O Extension
Each TSX Nano base PLC can be extended using an I/O extension. This extension is created by one of the PLCs with 10, 16, or 24 i/o. The function of each PLC is defined by the position of the coding selector switch:
Position 0 : base PLC
Position 1 : I/O extension
Peer PLCs
Up to 3 peer TSX PLCs, communicating via common words, can be connected to the base PLC. In this case, only the base PLC can receieve an I/O extension. The function of each PLC is defined by the position of the coding selector switch. I/O addressing of peer PLCs is identical to that of the base TSX PLC. The extension link cable between the base PLC and PLC extensions is shielded, twisted pair and is no more than 200 meters long. Each PLC has 2 reserved (IW) and 2 reserved (QW) words for exchanging data between PLCs. These exchange words are updated automatically. For each PLC, the user program is only able to write to the 2 %QW output words and read the 2 %IW input words.
MRO has many Modicon PLCs available. For more information, please email sales@mroelectric.com or call 1-800-691-8511.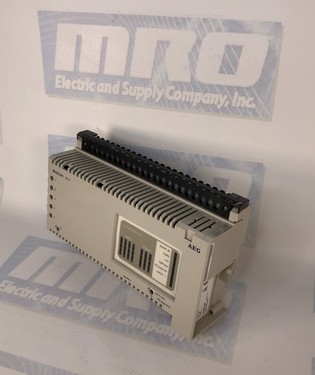 Updated on March 5, 2020 by Brian Hughes