The 3HAC028357-001 is a modern ABB Robotics Teach Pendant designed to be used with the IRC5 Industrial Robot Control, one of the most popular robotics controls on the market. Also known as the "FlexPendant", the 3HAC028357-001 is characterized by its clean, color touch screen-based design and 3D joystick for intuitive interaction.
The 3HAC028357-001 TPU (or teach pendant unit) is a hand held operator unit used to perform many of the tasks involved when operating a robot system: running programs, jogging the manipulator, modifying robot programs and so on.
The FlexPendant is designed for continuous operation in harsh industrial environment. Its touch screen is easy to clean and resistant to water, oil and accidental welding splashes.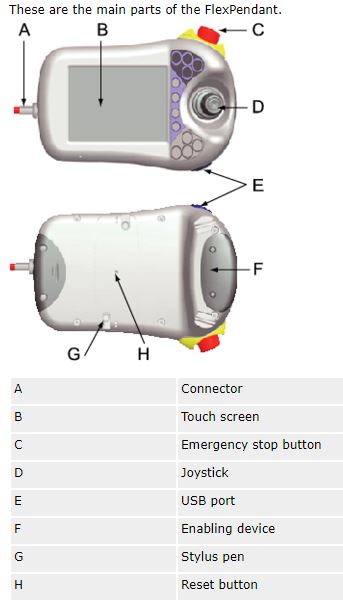 The 3HAC028357-001 replaces the legacy 3HAC023195-001 teach pendant.
The standard cost for a new ABB 3HAC028357-001 direct from the manufacturer or authorized distributor is typically in the $6000-7,000 range. MRO Electric is able to supply these pendants at a much lower price point, and we warranty all of our robotics parts for 12 months.
If you would like a free quote on a replacement ABB 3HAC028357-001, please email us at sales@mroelectric.com or call 800-691-8511.
Updated on March 5, 2020 by Brian Hughes