The following is a set of instructions to help you get your Alpha Power Supply Module to read "- -" on the display and have a consistent 300 volt DC output:
Turn off the power. Make sure the charge light is off before doing anything. Check for a short between the bottom and top buss bars. If there is a short, disconnect all modules until the short disappears. Once there is no short, continue.
Feed a 3 phase input into L1, L2, and L3 of the the power supply. Between 200V and 220V AC for leg to leg connections and between 100V and 110V AC for let to ground connections.
Feed 200V into the CX1A connector.
Install a jumper onto the top/bottom pins of the grouping of 3 pins on the CX3/MCC cable coming into the power supply.
Install a jumper onto the top two pins of the grouping of 3 pins on the CX4 cable on the power supply.
Make sure that all screws on the PCB are tightly screwed in.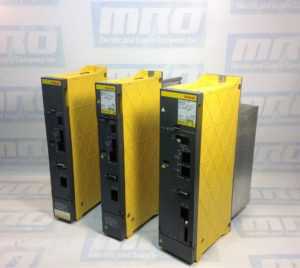 After following this process, your power supply module should now read "- -" and have baseline voltage output. Sometimes you may not have the necessary equipment to make a diagnosis on your motor, but we do. MRO Electric and Supply offers high quality repair services on all motors and spindle drives so you don't have to worry about it. Please take a look at our website to see all available brands and parts we can service for you. Our rebuilds for these size drives usually only take 2-3 days, which includes rebuilding the part, painting the part, and fully testing the part to ensure top quality. By getting your part back to you as soon as possible, you are able to minimize downtime, and by doing the job right you can have peace of mind knowing that your FANUC drive will now work properly and not be the reason for downtime in the future.
MRO Electric and Supply has new and refurbished FANUC CNC parts available. For more information, please call 800-691-8511 or email sales@mroelectric.com.