What are automated parts used for?
Automation is crucial in manufacturing and is the backbone of our industries. Robots can automate highly variant, dangerous and exhausting tasks in a high-quality and cost effective way. By increasing productivity at a lower cost, maximum cost efficiency is reached, which is ideal in a business setting.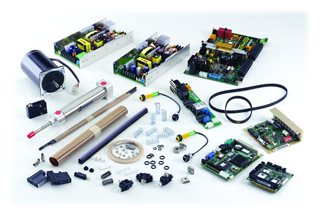 What should I be looking for when buying automated parts?
There are a number of things to keep in mind when buying automated parts for your warehouse or setup. Below is a basic guide with questions to ask yourself to make the process a little easier.
Is there a warranty? If so, for how long?
Protect your investment on your automated parts. Warranties are important in insuring that your part is functioning as intended and in getting what you paid for. Make sure you check under what instances a warranty can be claimed and how long the warranty lasts. Are there detachable parts within the automated component that are covered? MRO Electric and Supply offers a minimum 12-month warranty on all listed parts.
Is the part compatible with the machinery that is already there?
There are a multitude of environments that certain parts can be more oriented towards, including in aerospace and automotive manufacturing, food processing plants or laboratories. It is essential that the part be used in the correct application to be effective. It is obviously important that the automated component works with the setup already in place. Some additional compatibility questions to ask yourself before buying:
Does the weight or form factor impact its compatibility? Is space an issue?
Many people are eager to buy large parts for their warehouses without considering the space to put them. Consider the part and its intended configuration. Include additional equipment that comes along with the part like peripherals, fencing, light curtains or mat guards.
Will the condition of the part affect its lifespan in this application? Is there a newer, better part for this application?
Check to see if the part is new, used or refurbished, and if the condition will affect its application. Many industrial parts are discontinued as new technologies evolve, and while these legacy parts are still useful, newer components might work more efficiently or effectively. Check to see if there are any advantages or disadvantages to older and newer generations of your part and weigh your options.
Visit MRO Electric and Supply's website to see our selection of automated parts from manufacturers like Yaskawa, Modicon, Control Techniques, Siemens, and FANUC. If we don't have what you need listed on the site, contact us at sales@mroelectric.com or (800)691-8511 and we will be happy to help.