Yaskawa Electric is a global manufacturer of high-quality parts used in robotics and automation. They specialize in servos, controllers, switches, robots, drives and more. These parts are used for a variety of purposes in industry. In this post, we will be distinguishing the different types of Yaskawa drives.
CIMR Drives
E7 Drives– Designed for commercial HVAC applications. Embedded with Modbus, APOGEE FLN and Metasys N2.
F7 Drives– Well-rounded drive with a variety of uses. Contains NEMA Type 12 enclosure with space to expand filters, fuses, I/O cards and more.
G7 Drives– Low voltage drive that uses 3 level control to combat problems with long motor cables and premature motor bearing failure. Great vector performance and flexibility. Configured options with pre-engineered cabinet options available.
P7 Drives– Created for applications with variable torque like centrifugal pumps and fans.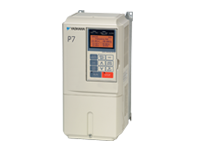 GPD Drives
GPD 333– General purpose AC Drive, 1/4 the size of normal PWM drives.
GPD 503/505/506– High-performance three phase voltage/frequency output with adjustable speed control.
GPD 515– PWM AC drive designed for low motor noise and high starting torque.

Microdrives
J1000 Drives– General purpose drives with open loop voltage/frequency control with preferred parameter feature. Simple variable speed of up to 7.5HP.
V1000 Drives– Compact current vector drive designed for efficiency and maintainability. Capable of up to 25HP. Economical for basic variable speed applications.
V1000-4X Drive- The same as the V1000 but with an enclosure built for dust tight environments.
Other Drives
A1000 Drives – High performance general purpose drive capable of up to 1000HP. Used for general purposes.
P1000 Drives – Torque performance capable of withstanding 1000HP. Oriented towards variable torque applications including centrifugal pumps and fans. Configured and bypass options available.
U1000 Industrial Matrix Drives – Regenerative high performance vector drive capable of up to 800HP. Used for general purposes.
Source: https://www.yaskawa.com/
Visit MRO Electric and Supply's website to see all of our available Yaskawa Drives. If we don't have what you need listed on the site, contact us at sales@mroelectric.com or (800) 691-8511 and we will be happy to help!