Thanks to their modular design, SINAMICS G120 inverters can be used in a wide range of
applications with respect to functionality and power. Each Siemens SINAMICS G120 inverter comprises a Control Unit and a Power Module. The power range extends from 0.37 kW to 250 kW.  Depending on the Power Module used, the energy released in regenerative mode is either fed back to the supply system (Efficient Infeed Technology) or stored in the DC link and/or fed to an external braking resistor. The Siemens SINAMICS G120 system  leverages its strengths in general machinery construction, as well as in the automotive, textile and packaging industries. Choosing the SINAMICS G120 series provides the following advantages:
Wide range of power ratings
Available in low/medium voltage modules as well as DC versions
Simple coupling to SINAMICS control systems for seamless automation integration
Standard and unified functionality resulting from common software and hardware
CU230 Part Numbers:
CU240 Part Numbers:
CU250 Part Numbers: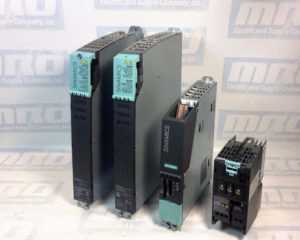 Each SINAMICS G120 inverter comprises a Control Unit and Power Module. In the SINAMICS G120 range, the Control Units can be combined with any power module. The Control Unit is able to monitor and control the power supply module. Communication is possible between both local and centralized control modules as well as other monitoring devices.
Has your G120 Series SINAMICS module failed? As with all of our services, our repairs come with a 12 month guarantee. Our repair service is based on doing the right job, and getting your part back to you as soon as possible. Every part we refurbish is tested to make sure they work the way they are supposed to. Our factory-trained technicians have many years working with Siemens products.
For a free repair quote and CU230, CU240 and CU250 drives, please email sales@mroelectric.com or call 800-691-8511.  For more information on our Siemens repair capabilities, you can visit our Siemens Repair page.