The
Quantum 140CPU43412A
CPU is a single-slot programmable controller with built-in executive memory, application memory and communication ports. All memory components are on board so no additional chips or cartridges are necessary.
Quantum CPUs
use flash memory technology to support the CPU's executive memory and instruction set. Flash is a state-of-the-art, nonvolatile memory technology that enables downloadable field upgrades as new features become available.
The application program can be stored in either battery-backed RAM and/or Flash RAM. The battery is located on the front of the CPU and can be serviced while the CPU is running. To protect the application program from inadvertent changes during operation, the
140CPU43412A
features a memory-protect switch. An LED goes on when this switch is activated.
The
140CPU43412A
CPU has two Modbus® ports and one Modbus Plus™ port. Simple rotary switches on the back of the CPU are used to set the network address of the Modbus Plus port. Each device on a Modbus Plus network must have a unique address in the range 1 … 64.
As an option, modules can be ordered with a conformal coating applied to protect the internal circuitry from corrosive gases such as Chlorine,Nitric Oxide, Hydrogen Sulfide and Sulfur Dioxide.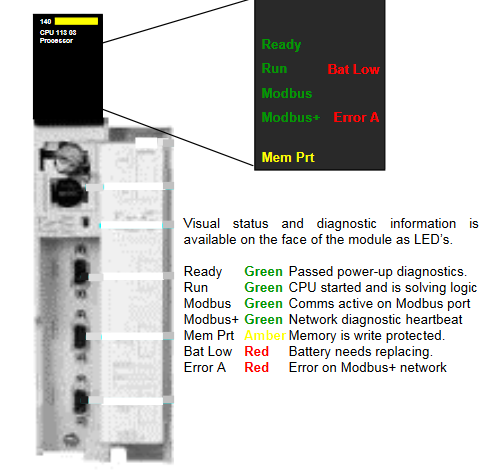 Updated on March 5, 2020 by Brian Hughes