The Voltage Sensing Module VSM10 is integrated in chassis format AIMs but may also be used to improve booksize ALMs compensation for fluctuations in the supply voltage. An Active Interface Module (AIM) is essential for the operation of an ALM. The AIM contains a reactor and filter to ensure compliance with category C3 (EN 61800-3) EMC regulations. An additional EMC filter is available for booksize modules to restrict emissions to within limits set by category C2(EN 61800-3) EMC regulations – however, a TN supply is required. The VSM10 provides a feed forward control signal of the actual supply voltage rather than requiring the ALM to detect and then react to any fluctuations in the DC bus. It  is used to operate a permanent-magnet synchronous machine without encoder with the requirement for switching to a machine which is already running (flying restart function).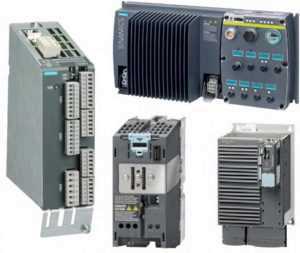 The VSM10 features the following interfaces:
1 connection for direct voltage sensing up to 690 V
1 connection for voltage sensing using voltage transformers, maximum voltage 100 V
1 temperature sensor input (KTY84‑130 or PTC)
1 DRIVE-CLiQ socket
1 connection for the electronics power supply via the 24 V DC supply connector
1 plug-in jumper for either grounded (delivery state) or isolated measurement
1 PE connection
The status of the VSM10 Voltage Sensing Module is indicated by a two-color LED. The VSM10 Voltage Sensing Module can be snapped onto a TH 35 mounting rail according to EN 60715 (IEC 60715). Below is a wiring diagram for the the VSM10: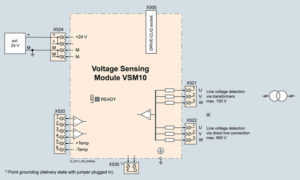 Has your VSM10 module failed? As with all of our services, our repairs come with a 12 month guarantee. Our repair service is based on doing the right job, and getting your part back to you as soon as possible. Every part we refurbish is tested to make sure they work the way they are supposed to. Our factory-trained technicians have many years working with Siemens products.
For a free VSM10 repair quote, please email sales@mroelectric.com or call 800-691-8511.  For more information on our Siemens repair capabilities, you can visit our Siemens Repair page.