The Siemens 6SL3040-1MA01-0AA0 is a Sinamics Control Unit CU230-2 PN. It is designed for use with several drives. It is a control central modules in which the closed-loop or open-loop functions are implemented for one or more line modules and/or motor modules. The number for VFD drive depends on the required performance, the required additional functions, and the required operating mode (servo, vector, or U/f). The software and parameters are stored in a plug-in memory card, and the option slot can be used to expand the number of terminals or adapt other communication interfaces to the higher-level control.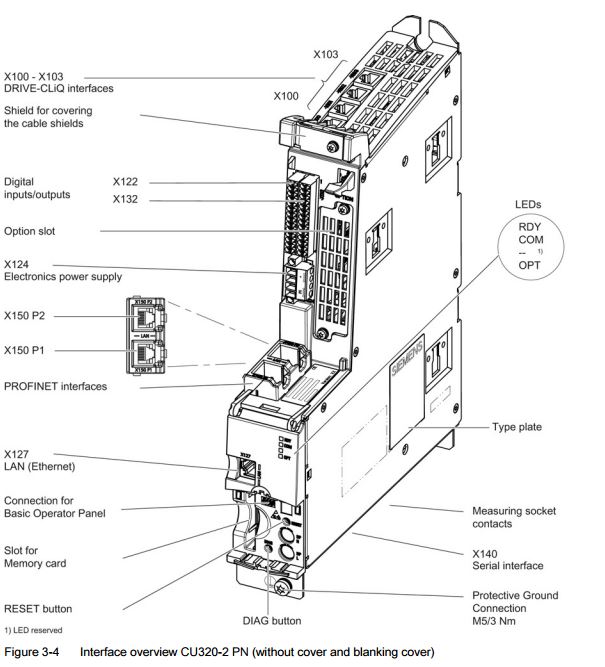 If your application requires more than one control unit, the number can be increased accordingly and interconnected via the Profibus. The 6SL3040-1MA01-0AA0 communicates with its associated components, like motor modules, line modules, sensor modules, and terminal modules, via the internal system's DRIVE-CLiQ interface. The module has 12 isolated digital inputs, and 8 non-isolated digital inputs/outputs.
With the 6SL3040-1MA01-0AA0, an open input is interpreted as "low", and terminal M1 must be connected so that the digital inputs (DI) can function. This can be completed by either providing the ground reference for the digital inputs, or by using a jumper to terminal M. If at any time the 24V power supply is briefly interrupted, the digital outputs are deactivated. If at any time the memory card is withdrawn or inserted while the 6SL3040-1MA01-0AA0 is in operation, then data can be lost and a plant standstill could occur. Only withdraw the memory card when the control unit is in a no-voltage condition. Electrical fields and electrostatic discharge can also result in the memory card being damaged, so observe ESD regulations when handling it.
MRO Electric and Supply carries new and refurbished Siemens Sinamics 6SL3040-1MA01-0AA0's. For more information or to request a quote, please call 800-691-8511 or email sales@mroelectric.com.